Do you sort PET bottles for recycling?

And what if you were paid for every PET bottle you returned? I'm interested
About the project
Our primary aim is to
assess

and choose a solution for the

take-back of drinks packaging
Zálohujme – Let's deposit is an initiative to investigate in detail how PET drinks packaging is currently being dealt with in Czech Republic. Our primary aim is to assess and choose a solution for the take-back of drinks packaging – a so-called deposit system. Although we know today how much waste is being produced in the Czech Republic, and how much of that is made of plastic, it is hard then to monitor the exact material flows of various individual types of plastic waste – where it ends up, what it is used to make, and what is the exact level of recycling.
Recycling does not mean (as many people in the Czech Republic believe) throwing yoghurt cartons into yellow recycling bins – this simply the collection phase and the first sorting stage. Recycling is a technical process in which we give plastic a second chance, and reshape it into forms that can be used to manufacture new products. In this latter regard, the Czech Republic lags far behind its European neighbours.

The founders of this initiative are Karlovarské minerální vody a.s., Institut Cirkulární Ekonomiky (INCIEN) and the University of Chemistry and Technology.
How does it work?
You buy a bottle of water

When you buy a drink, the price is raised to include a deposit

You return the empty bottle

After finishing the drink, return your bottle to the shop and get back your deposit

The bottle heads off for recycling

Empty bottles are collected from the shop, sorted and sent for recycling
Sorting drinks packaging
Today in the Czech Republic, about 70% of people sort waste. Many of us do so because we believe that it is good for the environment. The current system of sorting plastic waste in the Czech Repiublic has worked well. Nonetheless, it has reached its limitsand despite apparently positive results in many regards it is vital that we now carefully analyse it and propose a more effective solution.

"When it comes to sorting waste, Czechs are some of the best in Europe: about 6.6 out of 10 PET drinks containers released onto the market end up in yellow containers, from where they are taken for further sorting and recycling. Current data from the field suggests, however, that only 54% of PET bottles are actually reaching recycling facilities. This means that many thousands of tons of valuable material are being lost in the sorting process. One promising and generally positively assessed solution to improve matters – from an economic and environmental perspective – is a deposit system. In other words, buying back PET drinks packaging from the consumer. Research shows that countries like Sweden, Germany and other EU member states achieve a take-back level for PET drinks containers of up to 98% thanks to such schemes. Whether such a system would also work in the Czech Republic is still an open question," explains Soňa Jonášová, Director of INCIEN.
Level of sorted packaging waste achieved in 2016
Total share of sorted packaging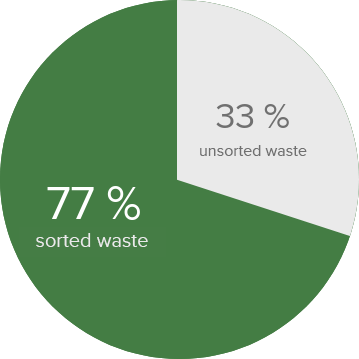 Experience with a deposit
system in the EU
Research shows that deposit schemes have helped countries like Sweden, Germany and other EU member states achieve a take-back level for PET drinks containers, aluminium cans and beer bottles of up to 98%.
Implemented deposit system
Considering implementation